Steam rooms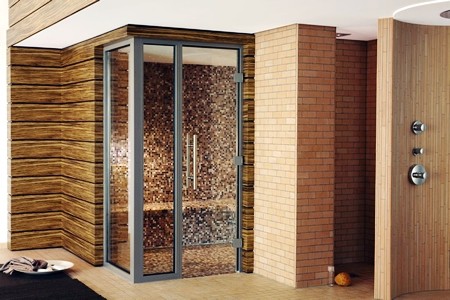 Steam room delivery
Steam room delivery consist: steam generator, steam jet, glass door, lights and control device of steam generator. Also is possible to install aroma esence pump.All steam generators consist control device.
Steam generators AQUASTEAM offer new,modern and comfort steam bath. Effectiv delivery is from 3,3 to 14 kW. It is possible connect up as much as 4 steam generators for big room. Steam generators have got big safety factor of running and very simple servicing.
Steam generator AQUASTEAM is delivered with digital control device. Can be install in or ouside of the steam room. You can set there the temperature, lighting, ventilation or aroma essence pumping time.
Before you make a decision, entertain all possibilities. Do not hesitate to contact us, we will give you all information you need and help you make a right decision.
Steam room is not sauna
Steam bath is characteristic with high moisture (to 100%) and quite relative low temperature (43-46 degrees), this is the main difference between steam room and sauna. Sweating inside the steam room is quite low,but warm reserves are high and sweating is coming long time after bath was finished.
Before your last decision entertain if the steam room is the right thing for you. Check an other alternatives: whirpools and sauna cabines.
How steam room come into being - Steam room history begins in antiquity. Steam bath was very popular in Greece, later on also in roman culture.
Healthy regeneracion
Steam bath is prevencion for health and beauty keeping,refreshment. It is nice place where you can sweat out similary as in sauna, but with an other climatic conditions.The air is not that warm, but more moist.
Moisture and hot air rest up your body, relax your soul, effects on respiratory system, well perfused your body. Steam bath is possible to recommend with parahypnosis and muscles strech.
It is possible to say that steam room has very similar effects as sauna, but if you have problems with respiratory system, the steam room thanks to moisture air has better effects.
Steam room using
Before you come in to the steam room is necessary to take a warm shower with soap using.
In steam room sit only on swim dress or towel.
In steam room behave equably and relax.
Stay is individual, but maximum is 15-20 minutes.
After bathing get cool with cold air and cold water
Do not use steam bath more than 4 cycles.
After take a shower and cover up, relax 20-30 minutes.